Facebook has announced a new feature coming to its standalone Messenger app that will let users start up group calls with up to 50 friends and family members. Rolling out now to the iOS and Android Messenger apps, the update will use previously established group chats within Facebook's messaging client as a springboard for starting a voice call with the group's members (via TechCrunch).
Users will be able to begin a group call by tapping the new phone icon at the bottom of a group chat window, picking which members they specifically want included in the call, and waiting for them to receive a Messenger notification and jump in on the conversation. The social media company confirmed that a total of 50 people can be in on one group call at a time, and that anyone late to the call can join after the fact through the same phone icon in the group's chat log.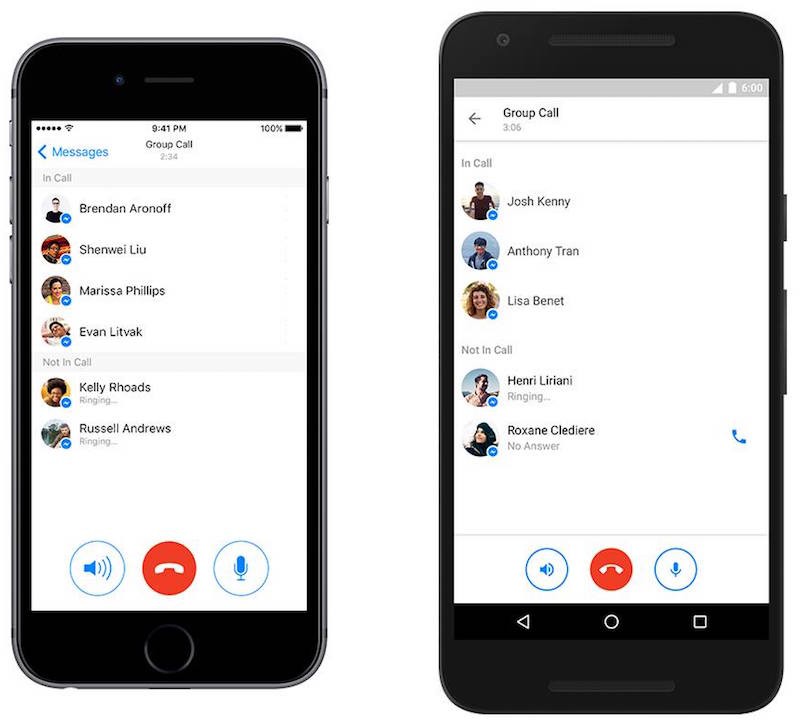 An in-progress group call on the Messenger apps for iOS and Android
Group calls are an extension of Messenger's established one-on-one voice and video calling features, and the company has said that group video conferencing could be coming down the line, as well. "Group video calling is definitely a use case that a lot of our people might be interested in at some point," Stan Chudnovsky, Messenger's head of product, said in an interview last year. "It would be a big deal if the whole [shakes hand to simulate lack of video stabilization] thing goes away."
In addition to expanding Messenger into its own self-sufficient communication hub, Facebook has been slowly rolling out new features into its mainline application. Earlier in the year it introduced six new "Reactions" so users could communicate their feelings on a post beyond the binary liking system. At its F8 Conference, it also pushed ahead into the Live Video and broadcasting features introduced to a handful of prominent celebrities last summer, and expanded to wide use this month.